MESA Lab is one of the 10 campus participants to this $1M NSF CI grant. We will have much more computing power for big data and deep learning related research. FIONA (Fast I/O Network Appliance) will be ready soon.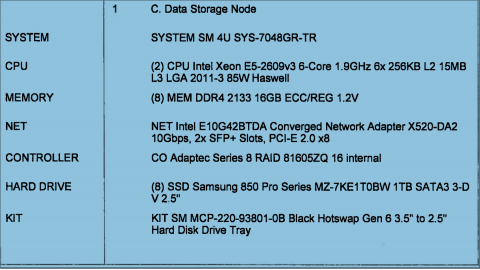 The Cubix Expansion chassis houses 8 GTX 1080 Founder's cards. Here's more information on that: https://www.cubix.com/wp-content/uploads/2016/08/Xpander-Fiber-8-5URP.pdf
Our previous GPU faccility at MESA Lab is shown here: http://mechatronics.ucmerced.edu/news/2017/congratulations-guoxiang-zhang-and-tiebiao-zhao-winning-nvidiab-gpu-grant-titian-x-pascal  (2 sets)
=== Project Summary ===
This project, called the Cognitive Hardware And Software Ecosystem Community Infrastructure (CHASE-CI), will build a cloud of hundreds of affordable Graphics Processing Units (GPUs), networked together with a variety of neural network machines to facilitate development of next generation cognitive computing. This cloud will be accessible by 30 researchers assembled from 10 universities via the NSF-funded Pacific Research Platform. These researchers will investigate a range of problems from image and video recognition, computer vision, contextual robotics to cognitive neurosciences using the cloud to be purpose-built in this project.
Training of neural network with large data-sets is best performed on GPUs. Lack of availability of affordable GPUs and lack of easy access to the new generation of Non-von Neumann (NvN) machines with embedded neural networks impede research in cognitive computing. The purpose-built cloud will be available over the network to address this bottleneck. PIs will study various Deep Neural Network, Recurrent Neural Network, and Reinforcement Learning Algorithms on this platform.
Updates:
news:
https://cio.ucop.edu/top-6-uc-it-wins-of-2017/
https://www.hpcwire.com/2017/07/25/nsf-project-sets-first-machine-learning-cyberinfrastructure-chase-ci/
---
Last updated 10/23/2017 by Prof. YangQuan Chen. 4/15/2018.