At ICUAS 2016, Washington DC, Brandon Stark won the Best Paper Award for the following paper: 
Unmanned Aircraft Systems (ICUAS), 2015 International Conference on
Each year, only one paper is selected (from nearly 200) for the Best Paper Award. Congratulations!
The June 9th, 2016 ICUAS16 Banquet award photo (Left: Prof. 
Fulvia Quagliotti, Politecnico di Torino, Italy, Award Committee Chair; Right: MESA Lab Director of UC Merced, Prof. YangQuan Chen. Cameraman: Prof. Paul Oh, UNLV, Founding TC Chair for IEEE RAS TC on ARUAV.)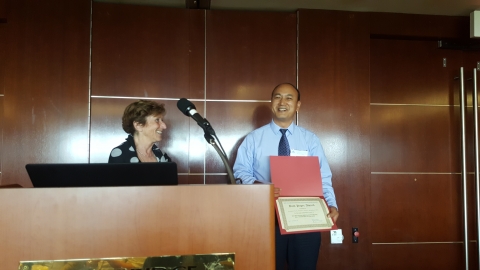 ---