MESA Lab members, Chun Yin and Brandon Stark, won the Best Paper Award in the "Applications" track of the Mechatronics and Embedded Systems and Applications Conference for their paper entitled, "Minimum Energy Cognitive Lighting Control: Stability Analysis and Experiments."  The conference was held in Portland, OR, from August 4th through August 7th.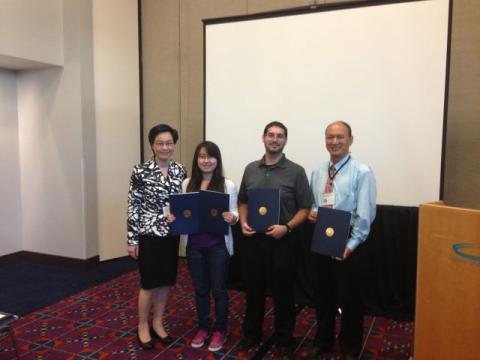 In total, there were 11 publications from MESA Lab members, including 4 authored or co-authored by Lab Manager Brandon Stark.  Some innovative presentations include "Take-Home Mechatronics Control Labs," "HRV Monitoring for Human Factors Research in UAS", "Minimum Energy Cognitive Lighting Control", and "Fractional Order Extremum Seeking Control for Grid Connected Photo-Voltaic Systems"
Additionally, three of the 18 pre-conference workshops were also put on by MESA Lab members.  Brandon Stark, Zhuo Li and Brendan Smith put together a workshop on "Personalizing Mechatronics Education Utilizing an Open-Source Real-Time Control System Rapid Prototyping Platform" that was attended by 35 participants.  Zhuo Li put together a specialized introduction on 
Fractional Order Motion Controls: How Motion Control can benefit from Using Fractional Calculus."  Dr. Chen put together a historic panel on "Fractional Order Mechanics - An Introduction of an Emerging Field" as a precursor to his historic course on Fractional Mechanics, the first such course ever offered at any university.
Congrats to everyone for their hardwork, and we'll come back next year with even more.