Prof. Chen won an Academic Senate Award (2017-2018) of UCM
On 4/16/2018, Professor Chen won a Senate Award in KL-232 during the Merced Division Academic Senate Meeting.
The award is called "Senate Distinguished Scholarly Public Service award" that recognizes a faculty member who has energetically and creatively applied his or her professional expertise and scholarship to benefit the local, regional, national or international community.
Here is a link to the news: http://me.ucmerced.edu/news/2018/me-faculty-members-receive-senate-awards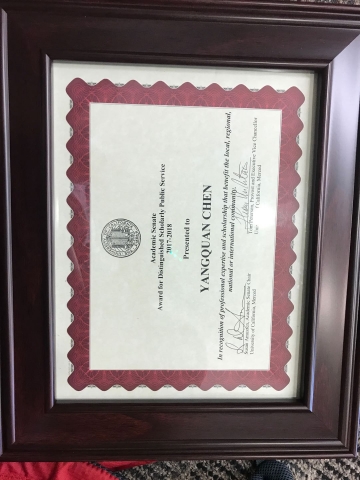 ==
On behalf Senate Chair Susan Amussen
Dear YangQuan:
Congratulations on your award for Distinguished Scholarly Public Service. It was a pleasure to recognize you last month on behalf of the Senate and the Committee on Committees, which oversees the award.
Public commendations are a rare thing, so I thought I would share the text of the citation read at the awards ceremony; please find it copied below. It was a pleasure to make public your accomplishments.
Finally, as you may be aware, you will receive $1,000 as part of this award. The funds will be transferred to your research account. You can expect to receive them by the end of May 2018. Financial Analyst Carmen Middleton from the Provost/EVC's Office will be contacting your school's financial staff for your FAU.
Best wishes for continued success at UC Merced.
Sincerely,
Susan Amussen
Chair, Merced Division of the Academic Senate
---
The Senate Award for Distinguished Scholarly Public Service recognizes energetic and creative application of professional expertise and scholarship to benefit the local, regional, national, or international community.
This year's recipient has undertaken significant public service at the local, state, national, and international levels. Of particular importance has been his work on unmanned aircraft systems, which has led to UC Merced's recognition as the hub for drone research and applications in precision agriculture, environmental monitoring, and digital heritage; and UC Merced's designation as the UC Office of the President's EHS Center for Excellence on Unmanned Aircraft Systems Safety.
As a result of his efforts, over 30 UCM students have earned small UAS Pilot Licenses, and UC Merced, through UC Merced Extension, has created opportunities for the public to take training classes in unmanned aircraft systems.
As one of his nominators noted, he has not only achieved these things for himself but has encouraged and enabled his students' involvement as well.
Laura E. Martin, Ph.D.
Executive Director
Academic Senate, Merced Division
Accreditation Liaison Officer
University of California, Merced
Phone: 209-228-7954
Cell: 209-201-8835
Office: KL315